Game DESCRIPTION and infos about the game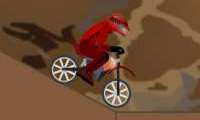 This game is probably the bedrock of all motocross games, simple but good. If you can reach the goal in a specified time, you can unlock new skins, new routes and new secrets.
Controls: The motorcycle is controlled with the arrow keys.
left arrow: to lift left tire
right arrow: to lift right tire
spacebar to change directions.
More games of the category Motorbike Games,
Walkthrough as a Video