Game DESCRIPTION and infos about the game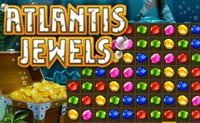 Dive deep into the legendary old Atlantis. In this game we use the "mouse" to connect 3 same colored jewels. To win a level we have to match jewels at highlighted spots.
More games of the category Match 3 Games,
Walkthrough as a Video
Post subject: stalled gane
User:

jdeneter


Posted: 09.11.2016, 01:49
---
games are stalling out and freezing after a couple of plays.
Post subject: I can't get past level 20
User:

Indianan Jones


Posted: 13.11.2016, 08:37
---
I've played this game many times and each time I reach level 20 I'm confronted by a language i do not understand and when I press for more advanced games it takes me back to the start again.
How do I get past level 20 Please?
Post subject: request
User:

isabel


Posted: 14.12.2016, 11:23
---
I like the game. I really wish you could choose your level, though. if your browser gets glitchy, you have to start all over again. My favorite is 13. After that 6 & 18.

I hope you do add an advanced level sometime.
Post subject: Where is the download link?
User:

isabel


Posted: 29.12.2016, 18:55
---
This game isn't playable in the online version anymore. It hangs up all the time, usually by level 6. It kicks you to the bottom part of the screen, won't let you get back up to the game, and when you finally can, it's taken a minute off the clock. I don't know what was done to it, but I'd like to play a version without all the online scripts getting stuck.