Game DESCRIPTION and infos about the game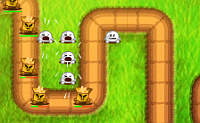 BioBots is a game for the waste separators amongst us! Because you have to build towers that suck the organic waste from the roads, each has it's own special ability, which you can quickly find out while playing.
Walkthrough as a Video
Post subject:
User:

Guest


Posted: 28.10.2016, 16:22
---
Biobots game is complete hoax click-trap. No, nothing bad happens, but no game ever starts. Been to at least 8 different websites hosting this game, and it's always the same -- the game never ever starts -- it's just a nonfunctional still-picture of a game.