Game DESCRIPTION and infos about the game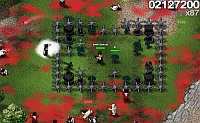 In the Boxhead games you have to try to stay alive as long as possible, think and place the barrel well to come up with enough ammunition, so that you can get the maximum high score. This is the second part offering, as it should be otherwise, more levels and a more sophisticated game concept.
Move with the "arrow keys" and shoot with the "space bar".
More games of the categories Zombie Games, Shooting Games,
Walkthrough as a Video