Game DESCRIPTION and infos about the game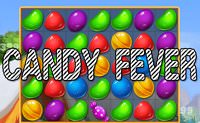 Candy Fever is a big match 3 game with more than 300 levels. In each level we have to remove a certain amount of sweets or similar tasks. The goals vary a lot from level to level. There are several power-ups which helps us to achieve our goals withing the given moves.
More games of the category Match 3 Games,
Walkthrough as a Video
Post subject: New Game
User:

blueangles1015


Posted: 05.03.2017, 16:59
---
I love your game but the direcctions are not in English Thank you and new game is great
Post subject: Candy fever
User:

Guest


Posted: 13.05.2017, 16:59
---
I like your game but level 183 seems to have something wrong. It wants 15 blocks removed and there are only 13 there.