Game DESCRIPTION and infos about the game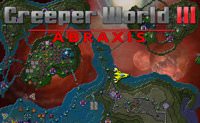 Creeper World 3 is an complex tower defense game. This time it was made in Unity3D. The main aspect in this game is to strategically gain energy and build a network with hubs. Than we can start building towers and stop the mass from the enemy. In the end we have to build Nullifier near certain hotspots to destroy the enemy. If we use to destroy all of them the level is won.
Similiar games of the category Tower Defense,
Walkthrough as a Video
Post subject: Creeper World 3
User:

Triple Kings


Posted: 13.12.2015, 03:35
---
I already have the Unity Web Player, and it won't load. The game just wants me to download

ANOTHER

Unity Web Player. This is one of my favorite games, so please fix it.
Post subject:
User:

Guest


Posted: 13.12.2015, 10:35
---
If you want to play it you have to install firefox and paly it there. Or you have to allow NPAPI in google chrome settings....