Game DESCRIPTION and infos about the game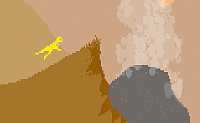 Dino Run is certainly one of the best pixel flash games out there. You start with your dinosaur and see how a meteorite strikes in your area. From then on, you have to run with no consideration for others. You have to overrun the other dinosaurs. With skillful jumping and running, you should escape as quickly as possible before the fire reaches you. Of course, for the whole game, you should neatly control your legs and accelerate! Nevertheless, you should try to collect the eggs on the way to get enough points to upgrade your skills at the end of each level.
Jump with the "up arrow" and use the "right / left arrow" to move left or right (facing you). Jumping is very important. Use "S" to crouch and "space bar" to pause.
More games of the categories Running Games, Dinosaur Games,
Walkthrough as a Video
Post subject:
User:

yawar1966


Posted: 02.07.2018, 17:56
---
[/b]

Quote:

Code:
[list][list=][img][/img][url][spoiler][/spoiler][/url][/list][/list]