Game DESCRIPTION and infos about the game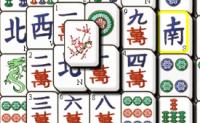 In the age of the dragons the people were already playing the good old mahjong. That's why we are pleasured with 6 layouts to chose from and a nice tileset. The difficulty is about medium-hard. Play to get the best score.
More games of the categories Mahjong Games, Dragon Games,
Walkthrough as a Video
Post subject:
User:

Guest


Posted: 11.04.2018, 01:39
---
Get rid of the video for Dragon Mahjong, etc. It keeps pulling down to it and I can't keep doing my game constantly!