Game DESCRIPTION and infos about the game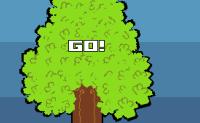 The music is annoying! In Extreme Gardening we have to be good in 2 things!
First we have to be skilled and fast with the "mouse" and second we need to have a good short-term memory. Because our task is to cut a trees leafs as seen on the screen a few seconds before.
Walkthrough as a Video