Game DESCRIPTION and infos about the game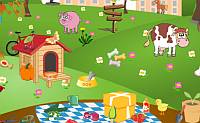 In this game your task is to find the Hidden Objects in different Levels.
Similiar games of the category Hidden Object Games,
Walkthrough as a Video
Post subject: Garden Hidden Objects
User:

B1b25S13i12e


Posted: 23.06.2013, 03:25
---
I hate all hidden object games that has timers and also points. I wants to find an Hidden Object games to relax not be in a hurry all because, I've to spend more time watch a timer than focusing on an item or items I'm trying to find in a certain picture and to me that not relaxing.