Game DESCRIPTION and infos about the game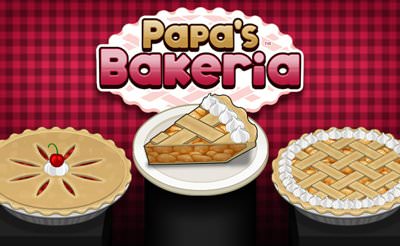 What we haven't done in the rooms of Papa Louie. Not only Pizzas, Burgers, Ice, Taco, no! This time we also do some baking. Take the orders of the customers and go to the preparing station to create some pies as you have been wished for. Take care of the times and toppings and create delicious food fin Papa's Bakeria.
More games of the category Restaurant Games,
Walkthrough as a Video
Post subject: This sucks!
User:

Yui ashada


Posted: 31.12.2017, 00:06
---
I WAS looking how to download papa's bakeria and it just the OTHERS i wont even say download! plz add a download button plz!!!
Post subject:
User:

jumokehiqmat@yahoo.com


Posted: 15.05.2018, 16:11
---
PLEASE WHERE CAN I DOWNLOAD THE PAPA BAKERIA AND TACORIA FROM
Post subject:
User:

jumokehiqmat@yahoo.com


Posted: 15.05.2018, 16:12
---
PLEASE WHERE CAN I DOWNLOAD THE PAPA BAKERIA AND TACORIA FROM
Post subject: yaboi
User:

yaboi


Posted: 23.05.2018, 00:20
---
press the three dots in the top right then press more tools then press save to desktop