Pom Gets Wi-Fi
Role Playing Game

Post subject:

Pom Gets Wi-Fi


Posted: 09.09.2013, 14:42
License:

Freeware


Downloads: 17076x

---
Pom Gets Wi-Fi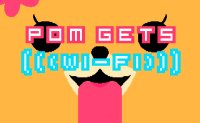 Description :



Pom Gets Wi-Fi is a game you can't take serious. It's a total awkward game. Exactly what we need. We play as a do called Pom which spends it's time mostly with checking around the Internet (Facebook and stuff). One day we land in dogs heaven and find out that there is no f***** Wi-Fi around. That's why we decide to search for it. The game was created with the RPGMaker and is totally jerky.




Features :
- Matching Graphics
- Positive crazy
- Mucking
- 2 Endings

Requirements :
- Windows 98/2000/XP/Vista
- Processor 1 Ghz
- 128 MB Ram
- 3D Graphics Card with 64MB Ram
- DirectX

Screenshots :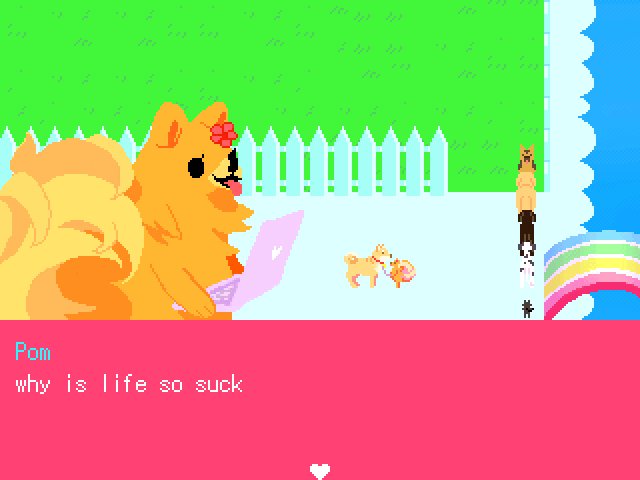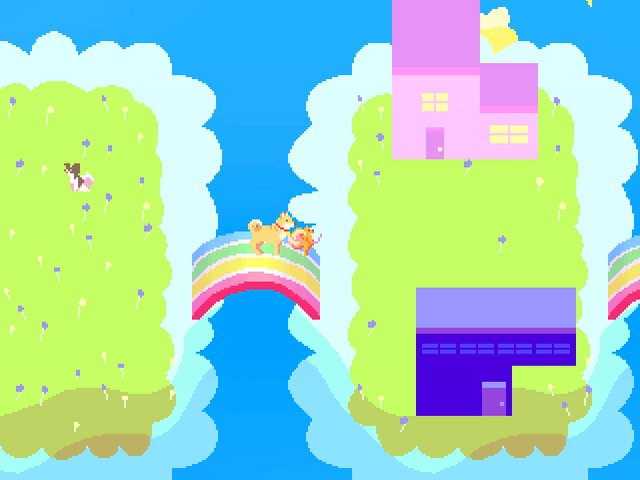 Publisher Sites :



Direct Download :

Download (Windows) - (0 MB)



Mirror (Windows)

Download (Mac)
Post subject:

Pom Gets Wifi


User:

Valentine


Posted: 15.12.2014, 17:45

---
POM IS SO PRETTY I DONT EVEN CARE IF SHES MEAN SHIBE LOVES MASTER BUT POM POM IS BEST ONE IN THE WHOLE GAME THANK YOU IZZY GAMES WOO WHOOOO!!![/i][/b]
Post subject:

DD


User:

kcsc


Posted: 06.01.2015, 01:27

---
Omg how do you download it?!



I need help!!
Post subject:

Doesnt work dmelmdlemdlemdledml


User:

Doge


Posted: 07.01.2015, 04:11

---
im TRYING FOR IT WORKI IM ON MAC..I DO THE ZIP THING, THEN IT OPENS THE FILE..WHAT DO I DOEZ.?




-Sincerely,
Doge
Post subject:

hELP


User:

nERD


Posted: 28.05.2015, 00:30

---
i dOWNLOADED iT bUT iT jUST oPENS a fILE wHAT dO i dO
Post subject:

...


User:

LittleLeopard11 Gamez


Posted: 03.07.2015, 05:01

---
PLZ PUT A DOWNLOAD LINK FOR CHROME BOOK!!!!!!!!!!!!!!!!!! PLZPLZPLZPLZPLZPLPLZPLZPLZPLZPLZPLZPLZPLZPLZPLZPLZPLZPLZPLZPLZPLZ
Post subject:

uhm


User:

FalconLordxxxXxxx


Posted: 27.07.2015, 17:12

---
hallur falcon lovers
i need half wit de game
it will nu downlod
plx help
sincrly, falconlord
Post subject:
User:

Guest


Posted: 02.08.2015, 22:05

---
POMSSSSSSSSSSSSSSSSSSSSSSSSSSSSSSSSSSSSSSSSSSSSSSSSSSSSSSSSSSSSSSSSSSSSSSSSSSSSSSSSSSSSSSSSSSSSSSSSSS LAPTOP