Game DESCRIPTION and infos about the game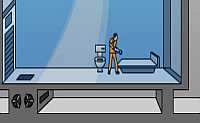 Portal is adapted from the Valve game. Here you can shoot portals to go from room to room. At first, it is quite easy but then it gets complicated and we must also cope with falling into a certain level and find a quick way out. It is a well-developed flash game with a total of 40 levels.

The controls are as follows:
Left mouse button - Shoot a portal to the desired site.
WAD - movement
Q - a blue portal
E - a yellow portal.
R - Close both portals.
F - pick up an object
~ - open Console
O - quality adjust
Esc / P - Pause game.
Walkthrough as a Video