Game DESCRIPTION and infos about the game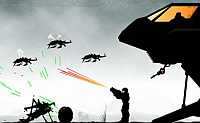 Red code is yet another great game. You crash your ship on a distant planet. The game has one level and you have to move the soldiers with 4 different weapons:

1) rifle single shot
2) rifle as permanent
3) Shotgun
4) grenades

Move your troops with "W,A,S,D" aim and shoot with the "left mouse button". You get points for every insect smashed. These points can be used to upgrade the weapon or weapons on-board. You can enter the ship with the "space bar" when you are close enough.
More games of the categories Defense Games, Shooting Games,
Walkthrough as a Video