Game DESCRIPTION and infos about the game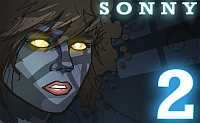 My hands are shaking .... Wow finally Sonny 2 is here, my favorite role-playing game in the flash world. So go ahead: First, of course, one chooses the language, when at last the 20MB are loaded! Then you can choose one of the three classes. Then you can optionally add a few settings and have the tutorial if you don't know how to use or played the part one of Sonny before. More Items... More playing time... More fun...
Fight back through the zone with your team, buy items or take them out of battles you won. Train hard gain more experience and try to beat all the bosses in each zone.
Similiar games of the category Online Role Playing Games,
Walkthrough as a Video