Game DESCRIPTION and infos about the game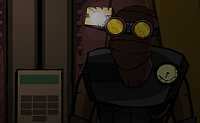 The Hermit is that kind of an adventure game with puzzles and little brain teasers
that you must solve. These are not always easy but fit perfectly with the genre and small flash games. An additional sound effects and slightly different music have done good to the game. You wake up in your cave, someone has beaten you down and the cave seems to be collapsing. Can you turn the generator on again and reach the surface?
Walkthrough as a Video