Game description and informations about the game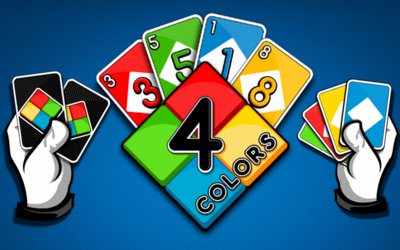 4 Colors follows the same gameplay than Uno. We play against the computer in this card game and try to be the first one to get rid of all cards. We can attach same colored or equal numbered ones. The special cards are: Reverse, Skip, Draw 2, Draw 4, Wildcard. With this we have to beat the opponent each round. More card games also for your mobile phone or tablet.
More games of the category Card Games,
Walkthrough as a Video
Post subject: to the same
User:

blueangels1015@gmail.com


Posted: 28.03.2017, 05:05
---
New game of uno it's great but if you add like point you win

This is great but it last from it you need a game with this put needs levels to beat from the computer I hope you can understand I both UNO games but after awhile it's get boring.
Post subject: Cheating
User:

Don't have one


Posted: 10.10.2017, 22:30
---
I was just playing this uno game and the guy or girl that was playing with me kinda cheated he or she when they had wild cards they played it at the end of the game cause they knew that I couldn't play because of the wild card. You can't do that at all that's cheating. You have to play the wild cards at the binging. If you don't that's cheating
[/b]
Post subject:
User:

Guest


Posted: 30.10.2017, 03:21
Post subject: Get down to 1 card and I am dealt 2 more
User:

dmharris59@outlook.com


Posted: 29.10.2018, 06:37
---
Every time I get down to one card, them i am dealt 2 more cards, haven't won 1 dealt Way????????????????????????????????
Post subject: advertisment
User:

CALBEE


Posted: 06.06.2021, 05:50
---
it keeps on playing an ad:(