Info! On January 12, 2021, Flash was deactivated. This game is temporarily unavailable to play. We are working in the background to make it available again. In the meantime, please try other great games on the site.
Description and infos about the game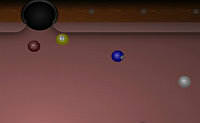 This is again something for all 9-Ball poolers. You can play Time attacks or tournaments but also straight pool. There are "ingame" 50 Trophies to win and it is physically very well made. The best pool game and for everyone a challenge.
More games of the category Pool Games,
Most Popular Games
Post subject: disabling Adobe flash player
User:

harryctucker@yahoo.com


Posted: 15.04.2021, 22:06
---
siince the flash player has benn discontinued.. Can american 9 ballstill be played from another Player?