Info! The game starts after the advertisment! ❤ We thank you! ❤
Info! At the 12th of January 2021 Flash has been deactivated. This game is currently not playable at the moment. In the background we try to get it to run again with an emulation called Ruffle. This is currently not working, try other games in the meantime.!
Gamedescription and infos about the game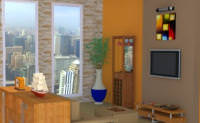 You have woken up in a house full of diamonds, isn't that a good sign ??? Nevertheless, you have an uncomfortable feeling, and of course do not want to leave the diamonds were they are.... so you take them in your pockets while trying to escape.
Similiar games of the category Escape Games,
Walkthrough for the game
Post subject: OMG
User:

Dragonspirited


Posted: 05.05.2018, 22:30
---
I absolutely love the reference to Kingdom Hearts! One of the keys was Sora's Keyblade! Omg, if you want to talk about kingdom hearts with me, hit me up! My twitter is @Crazy_Livi.[/b]