Gamedescription and infos about the game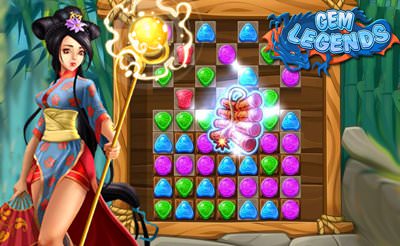 Gem Legends is a big match 3 game with a total of 120 levels. In each of those levels we have to do different tasks to beat it. Therefore we can use the "mouse" or the "finger" and click on at least 2 same colored tiles which are connected in a way. That more we remove in one click that better the power up will be. Each level has different tasks and a certain amount of moves we can do to achieve it. More match 3 games also for your mobile phone or tablet.
More games of the category Match 3 Games,
Walkthrough for the game
Post subject: firight
User:

ladylol


Posted: 17.10.2015, 23:17
Post subject: game resetting its self
User:

justinepiechocki


Posted: 16.11.2015, 21:08
---
my game has reset 3 times and just reset again i was at level 60 and needed 180 stars i only had 2 stars left to get does anyone had this problem
Post subject: gem legions
User:

dorothyowens34@yahoo.com


Posted: 07.06.2017, 04:10
---
the first time I played this game I got to over 100. weeks later I 'm playing it again and it won,t let me past 50. there is a symbol there. what do I need to do to get past this barrier that is there now, but was not the first time. answer please don't be one that does not bother. dorothyowens34@yahoo.com
Post subject: Frozen
User:

AM


Posted: 25.04.2018, 20:51
---
Why does the game keep freezing up? Can't continue with game and go on to next level!