Game description and informations about the game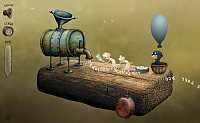 From the creators of Samorost, BBC offers the game Questionaut. Everything is in the typical style of Samorost. Thumbs up, this time something for the quiz fans. The point'n'click elements are of course there.
Walkthrough as a Video
Post subject:
User:

Guest


Posted: 17.07.2015, 03:46
---
i played this in the US and here we use quotation marks ("and") to show what someone said, not inverted or reversed commas. just an FYI.