Game description and informations about the game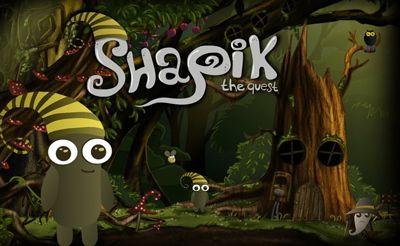 Shapik: The Quest is an mysterious point and click adventure like Samorost or Machinarium. We control a little guy who searches his lost sister. Our task is to solve all the small puzzles in this beautiful 9 level adventure. On our way we will see nice drawn graphics and a good background music which sets a perfect mood for this kind of game.
Similiar games of the category Online Adventure Games,
Walkthrough as a Video
Post subject: Nice
User:

agroz


Posted: 03.01.2013, 01:03
---
I love it. Beautifull game.
Post subject: Shapik: The Quest
User:

Kathy


Posted: 04.01.2013, 23:32
---
Samarost - very close, the graphics are BEAUTUFUL - but it had some playfulness yours lacked (fronds that move when the mouse goes over - that sort of thing. Not necessary for the game, but adds a lot of fun for the player who likes to...well...play around.

Only real complaint I have is with the dials - where the elevator was - never found a clue to those (and replayed 3 times just because I loved the graphics); solved it only because I found someone else who'd brute-forced them? Clues don't have to be obvious - but I couldn't even find a change in the fire or ANYTHING that gave a hint.

Other than that, one of the loveliest games I've played since Amanita last came out with one. Please keep making them!
Post subject: review
User:

joannaf


Posted: 05.01.2013, 18:04
---
the best game of all by far!!!!
Post subject: Shapik: the quest
User:

paulp


Posted: 15.03.2013, 17:13
---
agroz

,

Kathy

,

joannaf

, thanks! :)



Kathy

, For the furnace(level 8), there are two sheets of paper with numbers on them: 425 and 314. Green = 0 and each click adds 1, so make 4/2/5 and 3/1/4.
On the right side there is a Circle with a blue line.
Post subject: 面白かった
User:

廉


Posted: 13.12.2013, 17:56
---
癒される音楽と可愛らしいキャラクターがより楽しくゲームへと誘ってくれました。
大人になると頭が固くなってこのようなゲームを解くのに時間を使うけれど
それでもなんとかクリアできました。
非常に楽しめました。
ありがとう!とても楽しかったです。