Info! The game will start after the advertisement
Game DESCRIPTION and infos about the game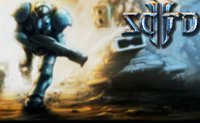 This game is not just for die-hard fans but also for Tower Defense freaks. Because the graphics and sound-table of the game are very sophisticated. Otherwise it's just the typical rules, build towers, where you have very little money at the beginning and has to act very clever to proceed further here.
Similiar games of the category Tower Defense,
Walkthrough as a Video
Post subject: Game does not work
User:

LLV


Posted: 20.05.2015, 22:15
---
Game isn't working just like all the other versions of this game.

The guns will just simply not shoot or stop shooting. Sucks this was a great game too.
Post subject: ddgdffv
User:

khaled


Posted: 16.04.2016, 19:23