Game DESCRIPTION and infos about the game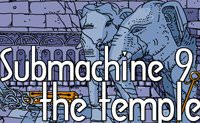 It's been a while since we could play part 8 of the series. Now the story continues in part 9 of submachine. This time we are in an mystic temple and explore the ancient place. Find items, solve puzzles and progress in the game.
Similiar games of the category Escape Games,
Walkthrough as a Video
Post subject: Community
User:

Gemini


Posted: 10.07.2015, 22:55
---
http://www.pastelland.com/forum/index.php

Visit and join the unofficial official Submachine community today! We may not be directly associated with Mateusz Skutnik the almighty creator of Submachine, but he does stop by and comment regularly.