Game description and informations about the game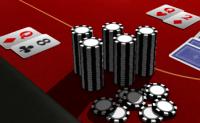 In this little game we can play against the computer in an Texas Hold Em Heads Up. So the only mode you can play here is 1on1. Both get 10.000$ in chips, the better one wins.
More games of the categories Card Games, Poker Games,
Walkthrough as a Video
Post subject: Heads Up Poker
User:

jd


Posted: 02.10.2016, 21:22
---
Fun but seriously rigged - every time you get a decent pair, anything playable and you raise pre-flop the computer folds...actually, the computer will fold 90% of the time with a min raise at any point after that, even checking all the way to the river, computer will

never

bet when you have a really good hand!
Post subject: TX holdem reply
User:

cg


Posted: 08.07.2017, 20:53
---
That's strange. I just beat the computer three full games in a row!