Game DESCRIPTION and infos about the game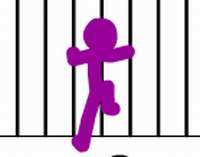 The game is as brilliant as its predecessor. You can take down your opponents with cool animations by pressing a "mouse button" or "space", for e.g. by hitting, kicking, shooting, stabbing, etc., until he's down. Sounds brutal, but it makes for a lot of fun!
Control: Use the "space bar" tp lead the blows, kicks, etc., by. clicking continuously as quickly as possible. Later you have to click with the "mouse" also.
More games of the category Shooting Games,
Walkthrough as a Video