Info! On January 12, 2021, Flash was deactivated. This game is temporarily unavailable to play. We are working in the background to make it available again. In the meantime, please try other great games on the site.
Description and infos about the game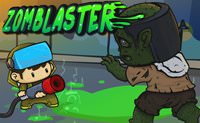 In Zomblaster we play as a firefighter who stands alone on the battleground with zombies. Use the "mouse" to aim with the hoose and try to find a logic how to push them into traps and other things that will get them down.
More games of the categories Zombie Games, Firefighter Games,
Most Popular Games