Game DESCRIPTION and infos about the game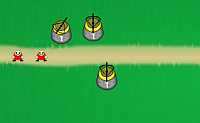 Besieged is not so bad. The background music is nice and relaxing that I could fall asleep on the keyboard, but I like it. Anyway... there are 3 different modes, survival, kill all enemies and erect a landmark. There are not only waves, there are also different levels. Also it is only about towers you also have to leave some space for farms that gives you EXP boosts.
Walkthrough as a Video
Post subject: Thanks
User:

gamesena


Posted: 19.02.2015, 12:02
---
Thanks for supplying this.