Game DESCRIPTION and infos about the game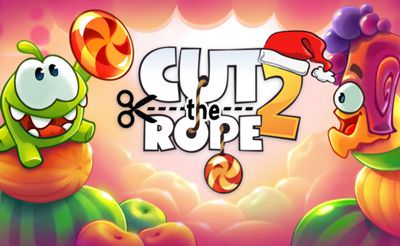 Many levels await us in the second part of Cut The Rope. That is enough for a few hours fun and a little headache in the later levels. Our goal in each level is to collect all stars if possible and finally feed the little green monster. Therefore we use the "mouse" or the "finger" to cut off the ropes on the right places. More physics games als for your mobile phone and tablet.
More games of the category Physics Games,
Walkthrough as a Video
Post subject:
User:

Guest


Posted: 21.12.2015, 02:31
Post subject: ..Ummm
User:

AaronGamePlay


Posted: 30.12.2015, 06:20
---
Umm..Plz fix dis TO SLOW ..Plz fix
Post subject: Ad
User:

Guest


Posted: 03.01.2016, 19:03
---
The ads don't go by like their supposed to it takes like 2 minutes to load
Post subject: Wtf are you doing
User:

T0602558c


Posted: 06.01.2016, 11:59
---
IT IS SO LONG! yeah...
[/quote][/b]
Post subject: Hi
User:

Shaodw


Posted: 13.01.2016, 20:30
Post subject:
User:

EvilGirl


Posted: 17.01.2016, 03:13
---
Way too slow! Plz fix dis.
Post subject:
User:

This takes to long


Posted: 29.03.2016, 22:52
Post subject:
User:

Water girl


Posted: 29.03.2016, 22:55
---
Okay this takes like an hour it feels like that
Post subject:
User:

Tincy


Posted: 29.03.2016, 23:07
Post subject:
User:

Guest


Posted: 22.05.2016, 17:02
---
It loads a lot but then it stops your right
Post subject:
User:

Saul lopez


Posted: 24.05.2016, 22:53
---
It is the slowest game ever fix it plz
Post subject: Eggedhhe
User:

Rhhrhrhd


Posted: 22.09.2016, 11:02
---
[/b]sgdydggddhhdyyysysayys
Post subject: To long!
User:

Fxrth


Posted: 16.11.2016, 02:41
Post subject: Stupidly slow
User:

Starfire


Posted: 25.11.2016, 23:37
---
So slow almost makes me scream
Post subject: Adds
User:

None


Posted: 25.02.2017, 16:15
---
Too many adds they pop up in 58 seconds please put less adds and more fun
Post subject: Game
User:

Laa


Posted: 04.03.2017, 14:35
Post subject:
User:

Jas.mf.mine


Posted: 08.05.2017, 18:19
---
Too slow😤🖕🏽& way too many adds!!!!🤦🏽‍♀️
Post subject:
User:

Guest


Posted: 12.05.2017, 16:00
---
Not working game won't even load, just glitches on and off
Post subject: To slow
User:

Pit05


Posted: 20.05.2017, 01:12
---
to slow took forever plz fix dis game
Post subject:
User:

Wafer girl


Posted: 27.05.2017, 06:11
---
To long way to long[/list][/b]
Post subject: Cut the rope 2
User:

Game girl 101


Posted: 06.08.2017, 13:50
---
Too slow!!! I could literally fall asleep plz fix it...XXX
[/b]
Post subject: Cut the rope 2
User:

Game girl 101


Posted: 06.08.2017, 13:54
---
Too slow!!! I could literally fall asleep plz fix it...XXX
Post subject: too slow
User:

guest


Posted: 11.10.2017, 18:02
---
Too Slow!!!!!!!!Pls Fix Dis Bruh!!!
[/b]
Post subject:
User:

Guest


Posted: 01.11.2017, 03:30
---
Mane you need to change the name 🤜🏽🤛🏽
Post subject:
User:

Guest


Posted: 13.12.2017, 00:19
---
Not too slow but WAYYYYY to many ads!!🤬👎🏼😬🙊