Game DESCRIPTION and infos about the game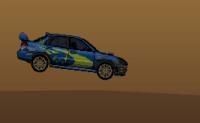 In Desert Rally we initially choose our vehicle that we use in the race. The goal is to keep the car intact for as long as possible. After a short time the track is always hilly and dangerous. We have to use only gas and brake, if we should be too quick to control our car we have lost.
More games of the category Car Games,
Walkthrough as a Video
Post subject: LOADING
User:

MYTEEQUINN


Posted: 17.03.2013, 12:26
---
WHY DOES THIS GAME NEVER LOAD???? ANY IDEAS?????
Post subject:
User:

IzzYgames.com


Posted: 17.03.2013, 14:22
---
Maybe you are using an Iphone or an Ipad... They don't support flash