Game DESCRIPTION and infos about the game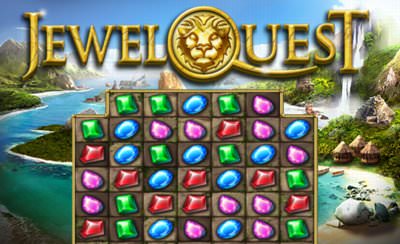 Jewel Quest has a total of 73 levels in which we have to match gems of three together. Therefore we use the "mouse" or the "finger". In the levels itself we have to do a match on every space in the given time we have. The coins could help us in emergency situations. If we collect enough we can remove 1 gem with it. More match 3 games also for your mobile phone or tablet.
More games of the category Match 3 Games,
Walkthrough as a Video
Post subject: game
User:

hiphop


Posted: 14.07.2015, 22:35
Post subject: game
User:

sassy


Posted: 27.07.2015, 20:27
---
Horrible! Cannot win! Using minutes up, clear tiles & screen won't advance past 10
Post subject: jewel quest
User:

Macie


Posted: 19.08.2015, 00:03
Post subject: Great game
User:

KAW101


Posted: 06.02.2016, 20:33
---
This is the best game I have ever played. It's even better than Candy Crush Saga and the other King related games.
Post subject: Redwitch
User:

Guest


Posted: 07.02.2016, 01:57
---
This game is rigged. I have cleared the board on level 10 3 times and each time it doesn't register the win and advance to level 11
Post subject:
User:

Shaw011


Posted: 11.10.2016, 03:07
---
My screen won't advance past 16 [/b]
Post subject: Jewell Quest
User:

SillySally


Posted: 01.02.2017, 05:45
---
My screen shows I'm at 88% and then gives me level one to play instead of level 32.
Post subject: Jewel Quest
User:

Eaz


Posted: 11.03.2018, 01:56
---
Game won't load at all for last 2 days and won't go past level 12 on my iPad. What's up with that??