Game DESCRIPTION and infos about the game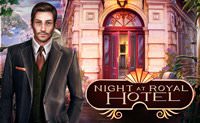 In this game your task is to find the Hidden Objects in different Levels.
Similiar games of the category Hidden Object Games,
Walkthrough as a Video
Post subject: night at the hotel
User:

Guest


Posted: 08.04.2018, 14:50
---
there is something very wrong with the game. Please repair it, i think it is a nice one and i want to be able to play it!
Post subject:
User:

Guest


Posted: 09.04.2018, 10:27