Game DESCRIPTION and infos about the game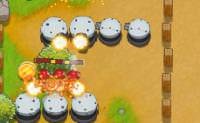 Get to the towers, the penguins are attacking again!! Also in the fourth part of
Penguins Attack we have to place tower on the way to keep the enemies from invading our base. As a little feature we see the path they will run.
Similiar games of the category Tower Defense,
Walkthrough as a Video