Game DESCRIPTION and infos about the game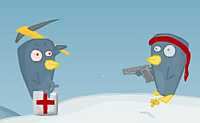 Actually, one knows penguins as cute little animal. In Penguinz you get to know their other side. I've made a huge mistake by wasting my money for the Chainsaw, I seriously do know how it got over so fast: My ammunition, and coming to think of it why does a chainsaw need ammunition??? I really thought I'll have infinite ammo but all I did was to stand there like a penguin in the desert and was overrun by the hordes of enemies, to my annoyance.

Here are some facts:
- You have 15 different enemies and 4 bosses.
- 9 different weapons upgrades with 33 normal and 6 special upgrade options.

The whole game is controlled with the "arrow keys", and you aim and shoot with the "mouse", use "P" to pause... Sometimes important if everything hurts, but actually the rounds get over "fast".
More games of the category Shooting Games,
Walkthrough as a Video