Game DESCRIPTION and infos about the game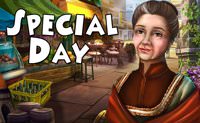 In this game your task is to find the Hidden Objects in different Levels.
Similiar games of the category Hidden Object Games,
Walkthrough as a Video
Post subject: Pop ups
User:

Dianne


Posted: 26.10.2017, 01:26
---
Can't see objects for the constant pop up ads at the bottom.
Post subject:
User:

Guest


Posted: 26.10.2017, 10:26
---
We don't use Pop-Up Ads from the bottom. Maybe you should check your computer for malware...