Game DESCRIPTION and infos about the game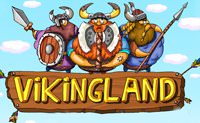 In the land of the vikings many fights were fought. In this tower defense game we build the towers on given spots to stop the enemy from reaching our base. We don't have to talk about upgrades and achievements that are standard already in this genre.
Similiar games of the category Tower Defense,
Walkthrough as a Video
Post subject: Final level
User:

Anon


Posted: 20.01.2017, 23:07
---
Final creature on the final level appears to be impossible. It deals at least 15 lives in damage, and it appears to be virtually immune to all attacks.
Post subject:
User:

duffman


Posted: 12.08.2017, 17:02
---
Yeah, I agree with the other comment, the last boss is impossible, it can't be slowed, the best weapon against it seems to be the fully upgraded ax throwers and I maxed out all of them in the path he goes and still couldn't kill him. Unless I'm missing something it is in fact impossible.