Info! The game is starting after the Ad! ❤ Thank you for your patience ❤
Information! On January 12, 2021, Flash was deactivated. This game is temporarily unavailable to play. We are working in the background to make it available again. In the meantime, please try other great games on the site.
Game description and informations about the game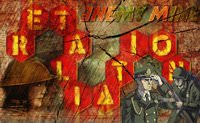 Retalation Enemy Mine is a war board-game. We step into the battlefield against the computer. Place troops on the board and start the battle. There are different modes and difficulties. Our goal is to beat the opponent. In the top right we can end the round.
More games of the categories War Games, Board Games,