Game DESCRIPTION and infos about the game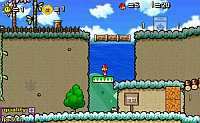 The hero of my childhood-days today still enjoys great popularity. Therefore, you are allowed to control this Super Mario N64 style flash game as a remake of the great Mario in his best days. The "Z,X,C" let's you attack in combination with the "arrow keys". Do not forget, in Mario 63 you can also let the seagulls carry you on it's back to swim and dive, is also not a problem. The 3-jump should be learned and requires skill.
More games of the category Mario Games,
Walkthrough as a Video
Post subject:
User:

Flynn


Posted: 07.12.2018, 03:36
---
I feel quite annoyed when the comment page is a different site from the main game. Can you fix it? I want to comment while the game is taking place. I usually do that when I play Super mario 63 on Freegames66.com
Post subject: 5 silver stars of WET DRY WORLD
User:

ur dick lol


Posted: 08.04.2019, 10:04
---
where r all the silver stars in WET DrY WORL?