Game description and informations about the game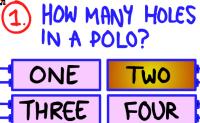 A very funny, sometimes hard and stupid quiz is waiting for us to be played. We have to answer lots of questions which are queer and tease us with some of the questions. We have 3 lives which means if we give 3 wrong answers we have to start all over again.
More games of the category Quiz Games,
Walkthrough as a Video
Post subject: Stop
User:

Guest


Posted: 15.01.2018, 22:01
---
Can You make more lives??? and load checkpoint.
Post subject:
User:

Guest


Posted: 06.10.2018, 16:40
---
does not work for me at all no matter what I do please fix bug please please please please (lots of pleases) will you do it please
Post subject: The Impossible Quiz Game Review
User:

Magnus


Posted: 07.12.2018, 03:26
---
It is not easy to master this game. The name speaks all. So I decide to stop at level 5 and come to Freegames66 to play my favorite quiz game, that is The World Easyest Game.
Post subject: Quiz
User:

Krista


Posted: 01.03.2019, 17:33
---
I want to play this game but i dont know were to go
Post subject:
User:

Guest


Posted: 20.03.2019, 08:52
---
i can't get past 43!!!!!!!!!!!!!!!!!!!!!!!!!
Post subject: Imposible quiz
User:

BLAH


Posted: 29.03.2019, 22:41
---
Add CHECKPOINTS!!!!

Im so tiered of redoing everything all because of no checkpoints!
Post subject: This Game Ofc
User:

Megan1


Posted: 12.05.2019, 14:54
Post subject: This game needs more effort
User:

Mattia


Posted: 07.11.2019, 17:05
---
This game need more lives and I am tired of doing it the 7th TIME Izzy make changes to this GAME
Post subject: impossible quiz
User:

its me


Posted: 24.11.2019, 02:05
---
level 84, the space, was too hard like if you past through the brown it will kill all of your three lives
Post subject:
User:

U SALTY BRUH


Posted: 30.12.2019, 03:05
---
Ya'll just salty cus u aignt know how to play the the ok. LIKE this game lowkey eeeezzzzzzz ight so i don want no garbage about, this game is to hardddd or, this game sucks bc it doesnt have checkpoints....... THE GAME ISNT SSSUUUUUUUPPPPPPPOOOOSSSSSSSEEEEEDDDD TO HAVE CHECKPOINTS TO MAKE THE GAME MORE DIFFICULT!!!!!!!
Post subject: Oh man
User:

Jax bearded guy


Posted: 02.03.2020, 03:26
---
I couldn't pass the BOOM :(
Hilarious and tons of fun, keep up the good work
Post subject: Levels
User:

Yeetman


Posted: 16.03.2020, 15:12
---
When i Get to level 40 it just turns the screen white. Please change it
Post subject: Good Game
User:

xXItzAnsonXx


Posted: 18.03.2020, 10:52
---
This game is good although it made me rage, it made me more temted to win the game, very fun, great job to the creator and Izzy.
Post subject: the impossible quiz
User:

oof mcfloof


Posted: 22.03.2020, 17:15
Post subject: what a bad game!
User:

kraker


Posted: 03.02.2021, 14:49
---
youre bad game is sooooooo bad i want kick it but...
1its so dumb to make a game (a really bad game) in a house
2 to mutch advertent
3 fuck this game byeeeeeee
Post subject:
User:

raph


Posted: 10.03.2021, 12:42
Post subject: BigManTommy approves of The Impossible Kwizz
User:

bigmantommy69420


Posted: 23.09.2021, 15:00
---
It's an INSANELY cool game, the puzzles are out of the ordinary, but it's at the same time very entertaining, and the answers can be confusing and funny. The game is really good, is what I'm saying. Bye from BigManTommy!!!
Post subject: i dont get it
User:

i dont get it


Posted: 27.12.2021, 13:45
Post subject:
User:

Guest


Posted: 26.03.2022, 05:41
Post subject: game
User:

rad


Posted: 28.04.2022, 15:22
---
this game needs a 3rd verison bc i love it[/u]
Post subject: game
User:

rad


Posted: 28.04.2022, 15:32