Description and infos about the game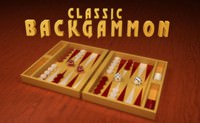 Backgammon is one of the oldest known board games. I think I've played it once in my life, and it was quite okay but I was never enthusiastic, but there are many who love it... so here is a nice version of backgammon.
More games of the category Board Games,
Most Popular Games
Post subject: game cheats
User:

rtbull


Posted: 03.09.2022, 05:00
---
This game will miss count spaces, and if you have the computer chips on the bar it will make two moves without getting both chips on the board. It's worse than playing my husband who cheats every time he can get away with it. You can't stop this from happening and no way to correct the mistake. Not a good game
Post subject: just a warning
User:

radfordkathy@hotmail.com


Posted: 25.10.2022, 23:52
---
Your opponent (the computer) cheats! If he has two guys on the bar and he can only move one off he will move it and then move another piece as well. Also skips spaces occasionally. I also don't like that when I roll dice that will not let me move the sign pops up and I can't see what I rolled. But he is a better opponent than other backgammon games I have tried so I put up with it.