Info! The game is starting after the Ad! ❤ Thank you for your patience ❤
Game description and informations about the game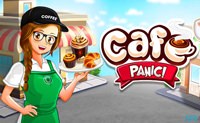 In Cafe Panic all of our live must be dedicated to satisfy the needs of our customers and serve them everything they wish for. Therefore we use the "mouse" to take the orders, use the right machine and serve it the customer before we take their money. After each round we can use our hard earned coins to upgrade the machines or buy new stuff.

tags: time, management, restaurant, serve, order, collect, girl
More games of the categories Restaurant Games, Time Management Games,
Post subject: Cafe Panic
User:

puppygamergirl


Posted: 16.08.2018, 17:54
Post subject: saved levels gone?/
User:

fenrispro


Posted: 21.07.2021, 07:20
---
Hi I just got many upgrades, but now i realise have to start from day 1 again? NOOOOO! WHY? how to retrieve the previous file?
Post subject: Sorry...
User:

IzzYgames.com


Posted: 21.07.2021, 08:42
---
Sorry, it's not possible to get the file back. The game saves the status in the browser localstorage. I'm pretty sure your browser cleans it from time to time or you forced it to do so. So it's lost. Make sure you change it this time!