Game description and informations about the game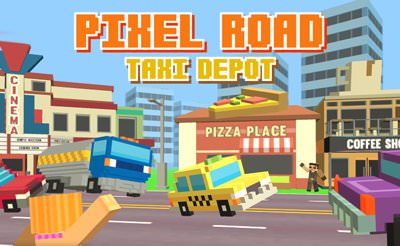 However wanted to drive with a taxi and make a living out of it, can do it now in Pixel Road: Taxi Depot. Our task is to collect passengers and bringt them to their destination. With the earned money we can buy new upgrades and earn more and more. The car is controlled with the "arrow keys".

tags: taxi, tycoon, company, driving, money, earn, upgrades, car, 3d
More games of the categories Delivery Games, Time Management Games, Car Games,
Walkthrough as a Video
Post subject:
User:

SimeenAwesome


Posted: 02.04.2018, 11:04
---
DOn't READ THIS. YOU WILL BE KISSED ON THE BEST DAY OF YOUR LIFE. NOW THAT YOU'VE STARTED READING, DOn't STOP. THIS IS SO FREAKY. 1 say your name 10 times 2. say your mum's name 5 times and your crushes name 3 times 4. paste this onto 4 other games. If you do this, your crush will kiss you on the nearest Friday possible. But if you read this and do not paste this, you will get bad luck. SEND THIS ON 5 DIFFERENT GAMES IN 143 MINUTES. WHEN YOUR DONE, PRESS F6 AND YOUR CRUSHES NAME WILL APPEAR IN BIG LETTERS. THIS IS SO FREAKY IT ACTUALLY
Like · Reply · 3y
Post subject: copied
User:

SimeenAwesome


Posted: 03.04.2018, 16:59
---
this letter above sent by me was copied and pasted from someone else
;) dont know if its true
Post subject:
User:

puppygamergirl


Posted: 16.08.2018, 17:17
---
No don't believe the first message it is a chain letter.