Game DESCRIPTION and infos about the game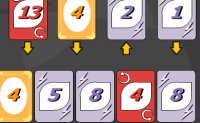 In the card game Lightning Card we have to discard our deck before our opponent has done so. In the middle there are 4 cards on which we can discard our deck. The arrows below it shows whether we have to discard one lower or higher as the current one. There are some specials like the wildcard and bonuses. Our goal is to be faster than the opponent.
More games of the category Card Games,
Walkthrough as a Video
Post subject:
User:

Guest


Posted: 04.05.2019, 09:24
---
I love playing the Lightning card game, but the problem is that the ability to flip a new card stops working after about level 5. Why does this happen? I have played this game for years and it is only recently that this glitch has been appearing. How can I fix it? I can't flip a new card, the computer opponent no longer plays, but the game times out. Please help.
Post subject: Lightning card game timing out
User:

Minamii


Posted: 16.05.2019, 06:07
---
I have the same problem as the above poster. I've tried different sites hosting this game but they all glitch at level 5, with the card not flipping, and the game timing out. It's very frustrating.