Game description and informations about the game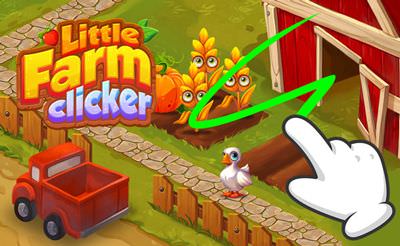 In Little Farm Clicker we have a mix between a clicker and a farm game. Therefore we have to grow and harvest wheat and other cereals. The goal is of course to build up your farm, earn money with it and have fun to click randomly around. More idle clicker games also for your mobile phone or tablet.

tags: farm, farmer, idle, clicker, click
More games of the categories Idle Clicker Games, Farm Games,
Walkthrough as a Video
Post subject: Too many damn adds!
User:

Guest


Posted: 24.10.2017, 19:32
---
Adds every what seems like 10 seconds! So dumb and not worth playing!!!
Post subject: Game stopped working
User:

Guest


Posted: 31.08.2019, 00:25
---
I've been playing this game for several weeks on my phone with no issues, but it stopped working yesterday. Now when it says the game is loaded and I press the play button the screen just goes black and the game won't load. Sometimes it briefly shows the start screen of the game for a second then it just goes black!
Post subject: Ads glitching and wont stop to let me play
User:

Guest


Posted: 19.07.2020, 23:43
---
I was able to play this game for a few weeks on my computer with ads playing every once in a while. Now that I've reached a higher level ( was somewhere between level 45 and 55-it won't stop playing ads long enough to let me see) it won't stop playing ads. As soon as I click play it shows my farm for a second and then just stats showing ads. As soon as one finishes another starts, they never end and I can never play the actual game. Refreshing or closing and reopening the game don't matter, it seems to be a glitch in the programming