Info! The game starts after the advertisment! ❤ We thank you! ❤
Gamedescription and infos about the game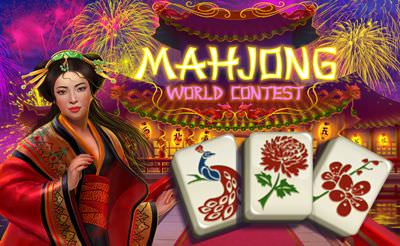 In Mahjong World Contest we have to proof our skills and abilities in Mahjong entirely. With 6 different difficulties containing many level we got to get a high score and trophies on our way. We can only unlock an area when we proofed ourselves in the levels before. Are you a real Mahjong pro? Proof it here. More mahjong games als for your mobile phone or tablet.
More games of the category Mahjong Games,
Walkthrough for the game
Post subject: Any game online
User:

Tumi


Posted: 04.11.2016, 18:06
Post subject: Mahjong World Contest: 31 August 2018
User:

George Magee


Posted: 31.08.2018, 14:52
---
I have never once in the past got a screen that plagues most other half-assed Mahjong games with the situation where stacks of two or more of the same tile are directly on top of each other; effectively screwing the player out of the game through the programmer's sloppy set-up of the game. This game had the feature of what I would call a "safety" button at the bottom that you could push when you discovered that this situation was about to happen and the game would re-cast what was left on the board to prevent getting "boxed in." I swore off most other Mahjong-based games because of this unreliability. Although, even World Contest when you did use this "safety" button, it would frequently re-cast the board and then freeze; causing you to at least start over again with that level. In fact, tonight not only did World Contest leave me a "short stack" at the very end, but it would not perform when the "safety" button was repeatedly pushed. Of course, this then changed nothing and the timer kept going, so I had to terminate the level. I was hoping that all of the "bugs" had been fixed on this game; but I guess I was wrong.