Game DESCRIPTION and infos about the game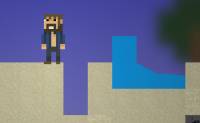 The title almost explains us what we can see in this game. Stranded on a lonely? island with nothing more than our bare hands we try to get blocks in our inventory and create something out of nothing.
Similiar games of the category Online Adventure Games,
Walkthrough as a Video
Post subject: Good About Mine Blocks
User:

Bellina Swart


Posted: 26.06.2015, 06:13
---
Mine Blocks is a game about mining sandbox blocks, collecting materials, crafting tools, and buildings. I'm really seduced into the building element because this job is absolutely free. It also means that I have a right to create fabulous structures I typically dream about. It's amazing that I just placed the simple blocks on the surface, but the achievement I got was what I never figured out.