Game description and informations about the game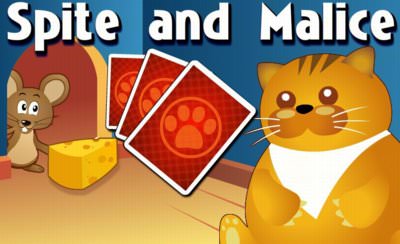 In this Cat and Mouse card game we play against the computer. The goal of the game is to get rid of your stack before the opponent does. The first card of the center stack need to be an A followed by 2-3-4-5. The suite doesn't play a role. We can place some cards to the discard which will end the turn. The king can be used as a wildcard and placed anywhere. More card games also for you mobile phone or tablet.
More games of the category Card Games,
Walkthrough as a Video
Post subject: New versions
User:

HollyB


Posted: 27.03.2020, 03:58
---
Hate the new versions of games. I used to love playing Spite and Malice, and Stop the Bus....but I hate the new versions. Change back to the classic, much loved versions!
Post subject:
User:

whimsybe


Posted: 17.03.2021, 04:00
---
I've become slow & not as much fun
Post subject: great past time fun thanx
User:

whimsybe


Posted: 30.03.2021, 13:13
Post subject: time's up?
User:

whimsybe


Posted: 26.05.2021, 00:18
---
lately game is ending with time remaining, what's up ?
Post subject: good game
User:

whimsybe


Posted: 16.08.2021, 14:24