Description and infos about the game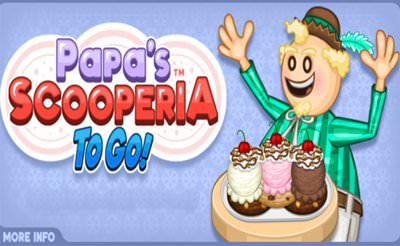 Fans of the Papa's series can finally be happy about a new episode. This time we can serve our beloved customers a tasty scoop of ice cream. Therefore we take the ticket, prepare the ice and decorate it lovely with other ingredients. At last we serve the whole ice to get our cash and the rating form the customer.

tags: ice, scoop, cream, restaurant, time, management, tycoon
More games of the categories Time Management Games, Restaurant Games, Papas Games,
Most Popular Games
Post subject: Papa's Scooperia
User:

puppygamergirl


Posted: 16.08.2018, 17:45
---
Very nice game. Had a lot of fun playing it and I hope that you will enjoy this too!
Post subject: game
User:

isfshirleyli


Posted: 25.06.2019, 13:31
---
this game is super fun! I love it.
Post subject: papa's scooperia
User:

ameerma7amid123


Posted: 25.11.2019, 15:12
---
It's so much fun I absolutely love it thank's for reading this!
Post subject: Loading too slow
User:

KapLife127


Posted: 07.05.2023, 10:59
---
It's loading too slow for me to play