Game DESCRIPTION and infos about the game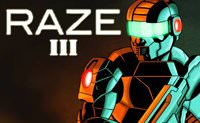 Finally the next part of Raze. The war almost completely destroyed mother earth. Now the last special cybernetic soldier was developed to beat the alien invaders. We slip into the role of it and control him with "W,A,S,D" to run and the "mouse" to aim&shoot. The levels itself are death-matches we have to win.
More games of the category Shooting Games,
Walkthrough as a Video
Post subject: Slopex
User:

Veronica R. Bennett


Posted: 20.12.2018, 06:50
---
Slope game slopex is too easy my high score is 178 its easy check leader boards from like all time.
Post subject: comment
User:

whapme69


Posted: 13.06.2019, 14:12